VISION:
We are the most respected & trusted professionals providing excellent real estate products & services, offering complete solutions to our clients & partners.
MISSION:
Global One's mission is to provide an exceptional real estate experience and the finest products to its clients and partners. We are at the forefront of the Real Estate & Property Management Industry known for its honesty, integrity, professionalism & excellent service to our local and international clients and partners. We aim to improve the lives of our employees and partners and be a great influence in our community and our nation.
Please don't hesitate to call or email us if you:
* have questions about any of our listed properties
* would like to list your property with us
* would like to explore opportunities in the Real Estate industry and Join Us
* need clarification on our company and our services
We look forward to hear from you!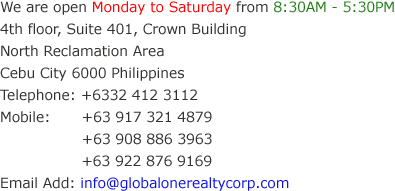 Contact Us